Research
My research interests surround the connection between visible galaxies and dark matter halos. In particular, I study various approaches to model the galaxy–halo connection, make observable predictions using simulations and models and compare them with observational datasets, and quantify the influence of the galaxy–halo connection on our understandings of cosmology, dark matter physics, and galaxy formation/evolution.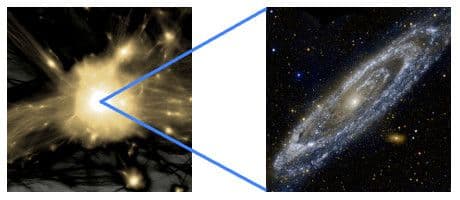 Specifically I have been working on:
I also participate in many collaborative projects, including:
LSST Dark Energy Science Collaboration (DESC): I am one of the lead developers of the DESCQA framework [ref], a validation framework to validate and test mock galaxy catalogs, and the Generic Catalog Reader (GCR), which provides an unifed data access interface. I have been credited the Builder Status of the LSST DESC.
Satellites Around Galactic Analogs (SAGA): We look out at the dwarf galaxies in nearby Milky Way-like systems to learn more about our own galaxy and galaxy formation physics [ref].
LSST Dark Matter Group: a community effort to explore how observations from the LSST can act as novel probes to provide constraints on the fundamental nature of dark matter [ref].
DECam Local Volume Exploration Survey (DELVE): a survey program to study dwarf galaxies in the Local Volume by imaging the entire southern sky with DECam.
Magellanic Satellites Survey (MagLiteS): a NOAO community survey that uses DECam to explore the neighborhood of the Magellanic system [ref].
Dark Energy Survey (DES): I helped analyzing the anisotopic spacial distribution of the newly discovered Milky Way satellite candidates [ref].
Sussing Merger Trees: a series of comparison among different merger tree building codes [ref].
You can also find a full list of my publications in this PDF file, on arXiv, or with more options.
Media Highlights
Undergrad Research
When I was an undergrad, I had been working on many different topics, including: